Whiplash
Whiplash or Whiplash associated disorder in its medical terminology describes a range of symptoms brought on by a flexion-extension injury to the cervical spine commonly due to a road traffic accident.
The Québec Task Force (QTF) has divided whiplash-associated disorders (WAD) into five grades.
WAD Grade 0: no neck pain, stiffness, or any physical signs are noticed
WAD Grade 1: neck complaints of pain, stiffness or tenderness only but no physical signs are noted by the examining physician.
WAD Grade 2: neck complaints and the examining physician finds decreased range of motion and point tenderness in the neck.
WAD Grade 3: neck complaints plus neurological signs such as decreased deep tendon reflexes, weakness and sensory deficits.
WAD Grade 4: neck complaints and fracture or dislocation, or injury to the spinal cord.
Symptoms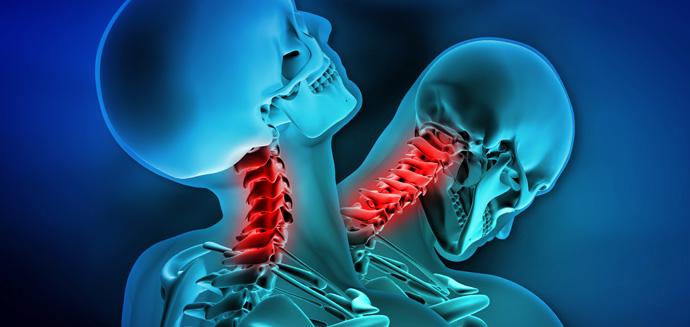 Symptoms reported by sufferers include: pain and aching to the neck and back, referred pain to the shoulders, sensory disturbance (such as pins and needles) to the arms & legs and headaches. Symptoms can appear directly after the injury, but often are not felt until days afterwards.
Prognosis
For the vast majority of patients the symptoms are mild and resolve with simple therapies. A minority will have severe and disabling symptoms.
Treatments
According to the recommendations made by the Quebec Task Force:
Whiplash associated disorders grade 1–3 should receive physical therapies such as manipulation, mobilisations and range of motion exercises.
Over the counter pain medication and anti-inflammatory drugs may also be prescribed in the case of WAD 2 and WAD 3, but their use should be limited to a maximum of 3 weeks.
A cervical collar should not be used for longer than 72 hours as it may lead to prolonged inactivity.
Return to normal activities of daily living should be encouraged as soon as possible to maximize and expediate full recovery.
Injection treatments
Injection therapies targeting the facet joints in the neck have been shown to be useful in cases resistant to the medication and physical therapies. Patients who respond favourably to two sets of diagnostic medial branch blocks to the cervical facet should gain long term benefit with a Radiofrequency Denervation procedure.