Yellow flag symptoms
Treating the whole person and not just the back
There are a number of features in chronic back pain that are associated with a poor recovery, persistent pain and higher levels of disability. These factors are called yellow flag symptoms. These features reflect how mood changes and our beliefs on the cause of pain, and an individual response to pain can have a huge impact on physical disability and return to work. These yellow flag symptoms are backed up by extensive research evidence and guides the role of physical therapies and psychological therapies.
Why does pain persist after natural healing ?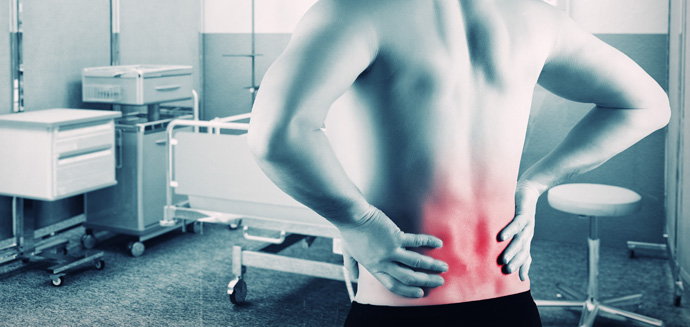 Depression:
Chemicals in the body involved in maintaining mood are also involved in regulating the nerves that signal pain. This explain why patients with anxiety or depression experience more pain than those who do not. Depression is commonly downplayed by the chronic back pain patient who believes that, "just get rid of this pain and I won't feel depressed" or that acknowledging depression is a sign of weakness in dealing with the pain.
Beliefs. " Exercise and activity will do me harm"
When the initial damage has healed and the continuation of pain represents just sensitivity of the nervous system treatments should be guided towards improving activity levels. The way we manage back pain now reflects this change, knowing from experience that bed rest/ inactivity prolongs pain, weight gain and weakness of core muscles. If we believe incorrectly that pain is a sign of more damage then we are unlikely to engage in these useful treatments.
Behaviours " BOOM and BUST "
When recovering from a back injury useful advice is to gradually escalate the amount you can do every day slowly. This may mean increasing the amount you walk/garden/ cycle by 10 minutes every day whether you are having a good day or not. In this way you will acclimatise your body back to increasing levels of activity with no set-backs. In this way you are setting the goals rather that doing as much as you can until your pain stops you. This is called PACING. People who are poor PACERS wait for good days and then do as much as then can and then suffer for days afterwards. This is called a BOOM/ BUST cycle. Over time these people will find they have less good days and more bad days leading to prolonged disability.
Treatments
The management of chronic low back pain is multi-disciplinary which means that we have to treat not only the symptoms of pain but also focus on mood effects and factors leading to poor physical function. This will involve not pain medication and certain pain injection but also advice on mood management and re-engaging in physical activities and return to work.